Now before all the comments start I know this church is actually in Northamptonshire. But as it is only 500ft from the Leicestershire border and it is closely tied with Stanford Hall in Leicestershire (near Lutterworth) it seems rather churlish to ignore it. It is also a marvellous church and well worth visiting and it is in Leicester Diocese.
In Simon Jenkins "England's Thousand Best Churches" he mentions the stained glass, the 16th century organ and the fine memorials to the Cave family who owned and built Stanford Hall. It is rather a 'flowery' description but in-depth. It is a good book but too big to carry around and too narrow a choice compared to Betjeman's 1958 "English Parish Churches" which has over 4000 entries. But of course the entries are rather smaller. There was an updated version by Richard Surman of Betjeman's classic in the 2011 "Betjeman's Best English Churches". This reduced it to 2,500 churches but it is a really good choice with plenty of good images and maps and is perhaps my favorite, but I digress.
The hamlet of Stanford is situated near to the River Avon which forms the boundary with Leicestershire. There are only a few houses left but there may have been a larger settlement in earlier times as there are remains of larger deserted village nearby. There is mention of an older manor house nearer the church which was pulled down in 1697 by William Smith of Warwick. The Caves bought the manor in 1540, and it was Sir Roger Cave who hired William to complete the removal of the old manor house and build a new Hall. Sir Roger died before the new Hall was finished in 1703 but William and then his son went on to complete the Hall. It is a handsome building and well worth a visit on open days.
But back to this delightfully situated church on a corner with a couple of attractive houses and surrounded by a pretty graveyard. The church is said to  have been founded by an Alan de Aslaghby who was appointed by his uncle the Abbott of Selby Abbey in 1307. His effigy is in a decorated recess in the south aisle resting on a sarcophagus with a decorated canopy above him all dating to the 14th century. Alan de Aslaghby had all the church rebuilt in the 14th century, apart from the chancel which dates from the earlier Norman build. It is reported that the tower was left unfinished in 1349 due to plague killing off some of the workmen and the tower was finally completed sometime later.
Take you time approaching the church so you will notice the mound under the east window which is the Cave's family vault. I have not seen one raised like this in Leicestershire & Rutland so far. Many churches had crypts perhaps this was another of that type.
The pinnacles also looked as though they had 'odd' bases, some restoration has taken place on the top of the tower recently I would guess.
You enter the church via the south porch and the church is very light and airy and has a fantastic array of wooden hatchments around the church. Also all the nave pews have been removed and this gives the church a feeling of space.
As already stated the the 14th century south aisle has the monument to Alan de Aslaghby and there is a piscina in the south wall. The arches have no capitals and this gives them a graceful line.
The west end of the church has two great monuments and the 14th century font centered in front of the tower arch and the organ gallery above. The first monument is to Baroness Sarah Braye (d. 1862) by Mary Thornycroft. Her marble effigy lies asleep with head resting on pillows whilst her three children are angels in the sky and a friend looks over her. The paving in front of the monument was chosen by Sarah herself from stone from Italy.
On the other side of the arch is another fine marble effigy to Robert Otway Cave (d. 1844). He lies resting on his hand whilst a kneeling woman weeps by his side. Books lay scattered on the floor. This was sculptured by Westmacott and some of the detail in both of these monuments is of a very high standard.
Under the west arch and above is the 16th century organ, one of the oldest on display in a parish church. It was purchased by Sir Thomas Cave in 1649 or 1650 having been originally one part of a double organ built by Robert Dallam for Magdalen College, Oxford. The gallery and organ is really an impressive site, it seems to 'hang' above the west arch supported by two fine pillars.
Again in the north aisle we have two further monuments of interest. The first is a striking monument of a 17th Lancer leaning against a memorial holding a wreath whilst looking down at a Zulu shield. The monument is to Edmund Verney Wyatt Edgell who died in the Zulu wars at Ulundi in 1879. The monument was designed by Felix Joubert in 1896.
Further along in the north aisle we have my favorite monument with Margaret Cave lying on her side whilst raising her head on one hand staring out at you. Her husband Henry Knollys lies on his back hands clasped in prayer above her on a tiered platform. Their two daughters flank their prone figures and the monument dates to around 1600. It is a grand piece and I really admired Margaret's nonchalant gaze as if she is daydreaming.
Separating the north aisle from the nave we have the final monument to Sir Thomas Cave  and Elizabeth his wife set on an alabaster tomb which brightly coloured heraldic carvings to the Cave family dated 1558.
Onto the chancel, and its array of woodwork. It is not Victorian (no clapping please). The chancel roof was undergoing restoration in 1909 and when they removed the reed and plaster ceiling they found the original Norman beams which are now on display. The dark wood panelling came from the old manor house and the chancel screen is 15th century and came from St Mary's at Lutterworth in 1837.
William Laud (1573-1645) was a minister at Stanford Church in 1607 and the altar is as it would have been in his day. He went onto become the Archbishop of Canterbury but lost his head in 1641 was he was accused of treason.
It has an array of monuments in its narrow confines. By the altar on the north side is the fine monument to Sir Thomas Cave and his wife Eleanor St John. Dated 1613 it is a quality piece of work and there are effigies of his five sons and three daughters underneath their prone alabaster figures. Adjoining the monument is a beautiful monument to their son who died in Italy in 1606 aged 19 years, you really have the feeling that his loss was keenly felt.
The East window has glass dating to the early 14th century filling the upper panels whilst the lower panels are of a later date. These were found in 1932 in a chest at Stanford Hall and may have been removed to escape damage during the Civil War when much of our stained glass was destroyed.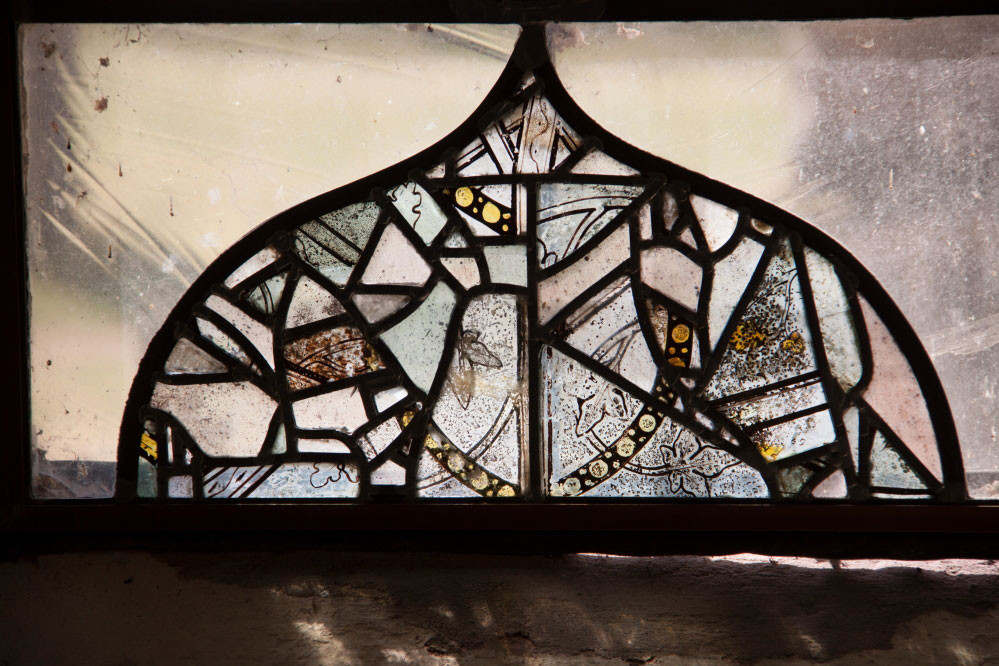 I have to say that St Nicholas was a real surprise, I had some idea on what lay inside but I was really taken with its fine array of monuments, its air of tranquility and peace and also of course its unrestored interior. The church is open at weekends at least, nearest pub is the fine Chequers at Swinford. Worth a trip out and it will be in my 'top twenty' even if it is in Northamptonshire.
Can I add that many of churches require our support so please leave a donation on your visit to any of the churches.
The church at Standford is OPEN. More information
here
.
Address details – St Nicholas, Stanford, Leics.