The village of Sharnford is on the B4114 four miles east of Hinckley and approx 11 miles south-east of Leicester not far from the county border with Warwickshire. The population is around 1,000 people today.
Before the Normans the hamlet of 'Scerneford' belonged to a Wulfric Spot, Earl of Mercia during the Danelaw in the 10th century. The village was probably occupied by the Danish from the 9th century.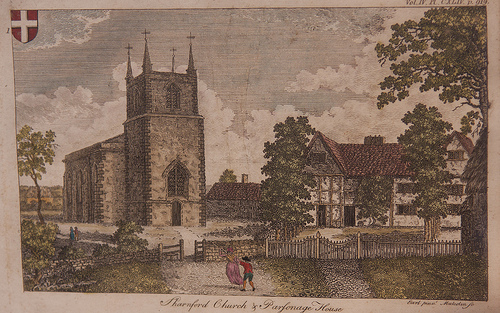 The River Soar was crossed in Sharnford hence the name, and 'scearn' probably means muddy ford. Originally the medieval village had two manors but of their history I could find little information. By the 18th century however the village had no 'lord of the manor'.
During the English Civil War it was reported that soldiers from the local garrisons visited the village in search of provisions and fresh horses. In June 1646 the Sharnford constables claimed for the provisions taken by Captain Flower from the Coventry garrison, and a Robert Day claimed £5 for a horse taken by Captain Merrer's men.
St Helens was consecrated and first built in around 1180 although much the building today dates from the 15th century. The church consists of a south porch, nave, west tower and chancel with later vestry. The low west tower (which holds six bells) originally held a spire but this removed in 1772 probably either due to a lightning strike or other damage. The tower holds six bells and has pinnacles. The nave still has box pews and is a light and airy space. The church suffered damage in 1984 when a fire started in the chancel area. This resulted in extensive repairs and restoration with a new roof, new lighting, carpeting and 81 embroidered kneelers created by members and friends.
The font is Victorian and there are one or two wall monuments around the church. The village itself has two pubs but the church is usually locked but still used for services. There is only very limited parking by the church. I must mention the churchyard which is very pleasant, sometimes these are left to nature at many churches but at Sharnford they have taken care and I expect much time in ensuring it is kept clean and tidy.

The church at Sharnford is usually LOCKED. More information

here

.



View Leicestershire & Rutland Churches 01 in a larger map

Address details – St Helen,  Leicester Road, Sharnford, Leics. LE10 3PP.